Reversals
In the event that a complication is encountered, an enzyme called Hyalase (Hyaluronidase) is used to dissolve the hyaluronic acid dermal filler.
For instances whereby an undesirable cosmetic result occurs (that is NOT a complication such as swelling) a Hyalase treatment can be considered at least 2-3 weeks post-treatment. A medical history and patch test will need to be taken. Please be advised that if this is positive, the Hyalase reversal cannot go ahead.
Juno Aesthetic patients have continuing access to this free-of-charge treatment option in the event that the product does not break down evenly in the body. Please note that in the event that it is suspected that treatment occurs elsewhere (as evidenced by comparing previous and current photographs), Hyalase treatment will be declined because Juno Aesthetics does not take responsibility for the clinical outcomes for other practitioners.
In the event that you would like Juno Aesthetics to take over your treatment, you will need to request the treatment notes from the previous practitioner and not be taking legal action. Juno Aesthetics always advises that you go back to your original practitioner to resolve issues out of professional courtesy to the original injector, to make them aware of their outcomes and because you may receive a treatment free of charge (as I would do for my patients).
CASE STUDY: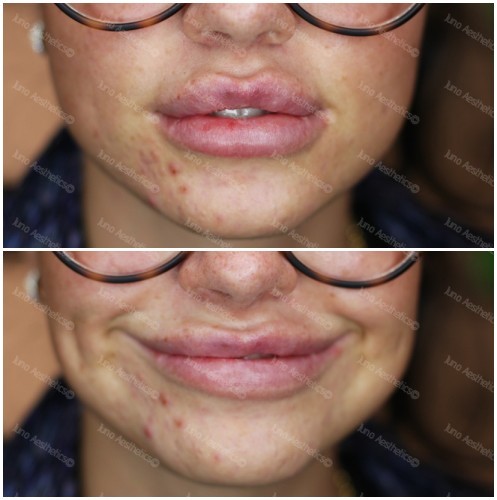 Before the reversal procedure.
Before hyalase
This patient in her 20s had received a dermal filler treatment that had resulted in an undesirable result for her and some product build up that was causing lumps.
Despite contacting the previous practitioner to request a review, they did not respond to messages so the patient had no option but to seek assistance elsewhere.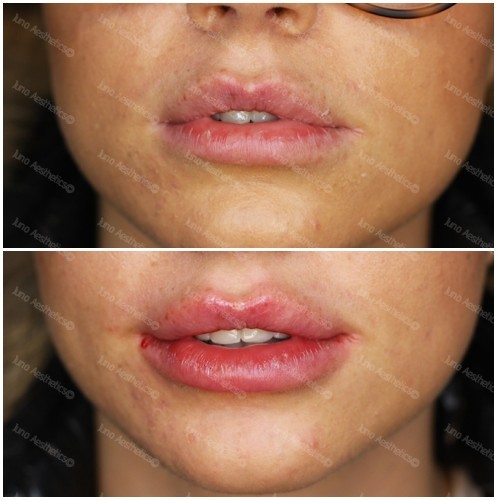 After the reversal procedure, the patient returned 6 weeks later for a natural 1ml enhancement using Juvederm.
after
The patient returned 4 weeks later, she still had some firm product in the cupid bow but overall her lips felt smoother and the blue tinge colour in her top lip had improved.
1ml of dermal filler that has the reputation for being smooth and soft in the lip mucosa was used for a volumised result that the patient prefers because the shape was softer.